Seismic Services
Geological Services
Reservoir Characterization
Solutions
Well logs, Maps, seismic sections, and other associated documents which can be used for new exploration opportunities and old/archived projects often exist in hard copy format. But the E&P industry is centered around digital work-flow, hence these hard copy formats will have to be converted to digital SEG-Y format.
Bulwark Services Limited has vast experience in reconstructing the full original 2D seismic waveform from stacked and/or migrated seismic sections in sepia or paper copies, while still maintaining the full dynamic range of the seismic data. We output the digitized seismic data into SEG-Y or other industry standard formats.
Using state-of-the-art scanning equipment, we can scan your paper seismic sections from sepia, film or paper and produce a raster image file. Using advanced seismic trace digitizing software, we then carefully track and reconstruct the data. This includes tracking of peaks and troughs, restoration of clipped peaks, and interpolation of trough values if none are displayed, for total waveform reconstruction.
The input to the reconstruction process is a scanned image of the seismic section in TIF, GIF or JPEG format. The client could provide the input, or we could be required to scan the seismic sections into any of these formats before the reconstruction.
After reconstruction of the seismic waveform, we would, if required, populate the seismic data with navigation information before conversion to SEG-Y. The client may supply the X and Y values for the header population, or we may be required to digitize the navigation information from seismic line maps and then load them to the seismic data. Bulwark Services Limited has executed a number of 2D seismic vectorization projects for the Nigerian E & P majors, as well as some majors in the west African sub-region.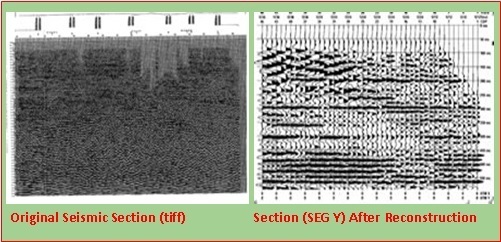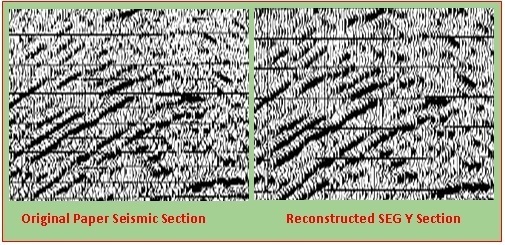 Key Features
Scanning up to 1000dpi
Image editing and raster cleanup
Total waveform digital reconstruction
Vector editing and on-screen
QC displays
Seismic data reprocessing
SEG-Y or workstation formatting
Benefits:
Returns hard copy data to SEG-Y format
Enables seamless workstation loading
Old datasets can be re-used and integrated with new surveys
Makes reprocessing of vintage datasets possible
Enables the long-term, safe storage of a valuable asset