Seismic Services
Geological Services
Reservoir Characterization
Solutions
Seismic Data

Acquisition Services
Bulwark/ION-GXT's marine acquisition toolkit allows one-stop shopping when outfitting modern streamer vessels. Offerings include positioning and streamer control systems, source and source control systems, streamer acquisition systems. Our Concept Systems partner is a leading supplier of advanced command & control systems that integrate quality control data acquisition in towed streamer and seabed seismic operations.
Towed Streamer Acquisition Systems
ION's cutting-edge imaging technology is utilized on virtually every towed streamer survey to acquire superior data in the safest, most efficient manner possible. ION is leading the next wave of marine seismic by designing our portfolio to work seamlessly as a single integrated system. Centrally controlling traditionally independent technologies can automatically optimize offshore operations in real-time. For example, predicting sea conditions can aid in pro-actively positioning the spread to meet ideal parameters. The automated approach reduces complexity, cycle time, and costs.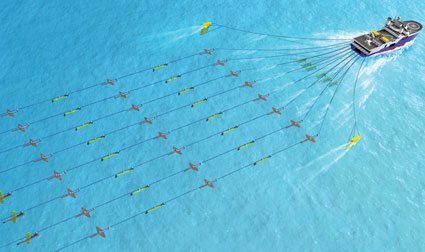 Towed Streamer
Data acquisition systems
DigiSTREAMER is ION's next-generation data acquisition system. It combines incompressible solid streamer technology with proven instrumentation for cost-effective, environmentally-friendly acquisition. The reliable, low-noise acquisition system increases the operating weather window and excels in the harshest conditions, delivering Arctic operations.
Positioning systems
ION's DigiBIRD II depth control, DigiFIN lateral control, and DigiRANGE II acoustic ranging systems provide automated streamer steering and accurate positioning, critical to successful 3D and 4D projects.
Orca navigation system and Illumination studies
Concept Systems' industry-leading applications for navigation, quality control and data management integrate data flows from multiple systems, ensuring better seismic data is acquired more intelligently while reducing costs and risks. Orca streamlines visibility and control to effectively execute challenging geometries and multi-vessel operations, while delivering simple, efficient processes for 2D and 3D acquisition. Also our comprehensive suite of products addresses the navigation requirements of seismic surveys for both towed streamer and seabed seismic operations.
Products and services across the seismic workflow include:
 Gator II and Orca navigation software - Integrates data management and control across all systems and vessels into a seamless platform.
 Marlin / SIMOPS software - Integrates visualization, tracking, analysis, forecasting, and risk mitigation tools for seismic exploration, site surveys and drilling
 Survey planning and optimization services & Acquisition optimization services

Ocean Bottom Acquisition Systems
As oil & gas companies seek to recover reserves in areas that are harder to access reservoirs that are more difficult to image, seabed seismic has emerged as a valuable part of the marine imaging toolkit. Seabed seismic data acquisition technique differs from the conventional technique of marine acquisition in which the sensors are located in a stationary manner on the seabed.  However, its usage is still limited as requirement of relatively large operational efforts likely results in more survey cost and time.
In this acquisition technique, dual sensors are often use; a hydrophone that measures the pressure, and a vertical geophone that measures the vertical displacement speed of the particles. At present the most used technique is 4C, or 4 components, meaning a hydrophone and three geophones that measure the displacement speed of particles in three perpendicular directions.

As a result of this advancement in seismic acquisition system, Bulwark went into partnership with BGP/CNPC, a geophysical service company under the direction of the China National Petroleum Corporation for an OBC 4C 3D seismic data operation services.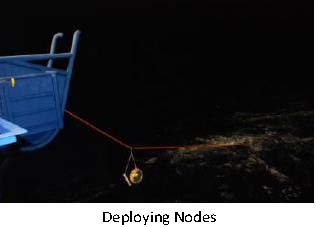 The drive to achieve superior subsurface imaging has created way for advanced offshore seismic acquisitions; starting from towed streamer to Ocean Bottom Seismic [Ocean Bottom Cable (OBC) and currently Ocean Bottom Nodes (OBN)]. The limitations and operational challenges of towed streamers and Ocean Bottom Cables such as, "increased deployment time, distance between sensors, and multi-streamers," incredibly facilitated the development of Ocean Bottom Nodes (OBN).

Bulwark Services Limited in partnership with SAE Incorporation deemed it necessary to put this correctness to work effectively but efficient low cost related approach in handling these challenges. Together, we acquired an ocean bottom node (OBN) 4D seismic data project in deep offshore Niger Delta for an E&P company in Nigeria. Through the focused effort of everyone involved, we had a huge success with zero percentage fatality and injury.

PROVISION OF JACK-UP RIGS SERVICES
Following extensive growth in business in recent times, Bulwark Services Limited diversified into provision of Turnkey drilling solutions in the Nigerian offshore areas such as provision drilling rigs (jack-up rigs) and marine vessels. It is on this basis that Bulwark formed a partnership with Shelf Drilling.

Presently, Bulwark and Shelf Drilling have been awarded a to provide Jack-Up rigs for offshore drilling  that will span from 2016 – 2018 with an option of an additional  1year.